Mayfair Personnel
mayfaircareers.com
Temporary and permanent staff...
Temporary and permanent jobs...
Training at Mayfair Business College, if you need it...
employers
An administrative support employee needs strong organizational, computer and people skills to effectively manage the day-to-day duties in an office. Mayfair Personnel understands the importance of recruiting and hiring qualified administrative support staff.  In fact, its all we do.  We recruit, screen and interview potential administrative support candidates daily so we can respond to your staff request as quickly as possible.
We offer the following staffing solutions:
Temporary.  Mayfair will provide qualified administrative support staff for vacation coverage and employee leaves or to assist during special projects and other busy times.
Temp to hire.  There is no better way to evaluate skills, experience and productivity than to see them in action.
Direct hire.  Recruiting and hiring staff can be costly, time consuming and stressful.  Send Mayfair your job description and we will provide a short list of candidates who match your requirements and who have been interviewed by a Mayfair recruitment consultant and completed computer testing.  You select the candidate(s) you would like to interview (at our office or yours) and make the final hiring decision.  There is no placement fee until you hire.  What if your new employee does not stay?  Talk to us about our replacement guarantee.
job seekers
Are you looking for work in administrative support?  Expand your job search by applying to Mayfair Personnel.  We do not charge registration or placement fees to candidates.  We offer temporary, temporary to hire and direct hire opportunities.  Your goals and employment objectives are important to us. Whether the job is a temporary assignment or a direct hire referral we always strive to match our candidate's skills, abilities and knowledge with the needs of our clients. 
We specialize in administrative positions including:
Administrative Assistant
Reception
Data Entry
Accounting Support
Office Management
Mayfair Personnel candidate information is always treated as private and confidential.  We obtain your approval before presenting you to potential employers.  We pay vacation pay and general holiday pay as per Alberta Employment Standards.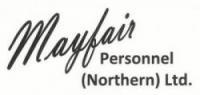 Mayfair is  as fragrance free as possible.  Please help us accommodate staff, students and clients who are chemically sensitive.  Thank you for not wearing perfume or other scented products when visiting Mayfair Personnel and Mayfair Business College